Why you should be doing content and podcasts. Logan Paul had drink sales of $250M last year. Nelk Boys did $100M+.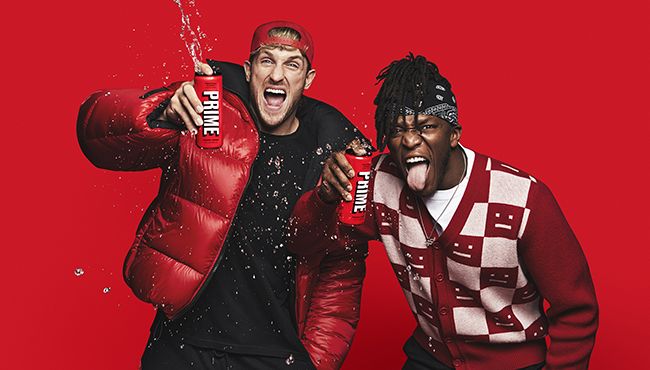 So why all the influencer action around drink brands. High Margins make it worth doing! Nelk boys and Logan Paul have made it work.

1) Beverage basics
Drinks are a good business. Scratch that. A great business. Consumers are loyal. Profits are juicy. And the big players are begging to be disrupted. Coca-Cola had profit margins of 22% in the last 12 months. Diageo is sitting at 31%. These numbers are eye-popping for a physical product company. Influencers know that. And they want a piece of the action.
2) Coffee
In 2019, mega-influencer Emma Chamberlain launched her own coffee brand. It's called Chamberlain Coffee.
Fans know she's a coffee lover so it fits her persona perfectly.
The brand was an instant hit. Emma promotes it to her 26M+ followers and supports that with lots of paid ads.
And she's assembled a killer team. She hired a former Redbull exec as CEO. And they built out a phenomenal D2C experience.
Emma has raised $14M in funding to drive growth. She's getting bigger by the day.
3) Seltzer
The Nelk Boys hit it big as YouTube pranksters. They also have a wildly popular podcast. And in 2021, they became drink moguls.
The guys launched a hard seltzer brand called Happy Dad. In the first year, they sold 698,000 12-packs. That jumped to 2.6M+ in 2022.
And with 1M followers on Instagram, it's easily among the most popular alcohol brands in the world.
Revenues aren't public, but I'm told Happy Dad is selling north of 9-figures. That puts them in the big leagues.And this takes me to the baddest bevvy of them all.

4) Sports
The grand daddy of influencer drinks has to be Prime Hydration. The sports brand was launched by YouTube stars Logan Paul and KSI in January 2022. And it's a rocket ship.
In the first 12 months, sales hit a ridiculous $250 million.
In January 2023, Prime captured 5.8% of the entire category. It's still far behind Gatorade, which does $6B/year. But that's also a 58 year old brand. Prime is off to a good start.
5) Our take - what to do
Each creator has taken a very different approach. But they're actually following the same playbook.
First build a community. Next develop a product. And then launch a business.This formula is insanely effective. And it's not just for YouTubers. We've done it many times with clients at Influicity. It's the foundation of sustainable growth.So take a cue from the creator class. Triple down on your community. That's how marketing is done in 2023.
LEARN HOW TO BUILD A REAL BUSINESS WITH FOUNDERBOUNTY UINVERSITY FROM REAL ENTREPRENEURS:
LEARN HOW OT BUILD A BUSINESS LIKE NELK
Founderbounty is a great resource with courses from real entrepreneurs that an teach you about business, its basics and building one from scratch. From why content is important to specific topics this may be a great all-round resource.
2. Cousera Courses
A great all round way with some interesting topics on building a business but usually very personalised on certain topics. This may not be so suitable for people starting from scratch and looking on ways of building a startup unless your looking for something specific.
3. Masterclass courses
A well know site with lots of talk about people who have made it but no real resources on how they did it and specific points on what you should be doing in 2023 to build a successful business and what venture capital really are looking for to be able to fund you.
4. Skillshare courses
A great place to learn a bunch of extra skills. Its is a learning community for creators. Anyone can take an online class, watch video lessons, create projects, and even teach a class themselves.
A bunch of courses that you can take to get yourself off the ground!